四月 08 2020
11/06/08-The speech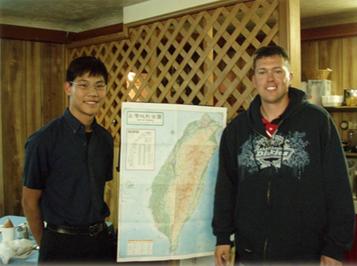 This is one of the assignments of the Communication class. Every student has to make a 10 minutes speech this month. I thought it would be a good chance for me to introduce something about Taiwan. So I decided that I was going to do that. I wrote my outline, it was about the geography of Taiwan. Meanwhile, I prepared a map of Taiwan and a sweet potato, so I could make people recognize the shape of Taiwan quicker. I practice many times before I went to speak. The speech was on November 7th. The whole class went to have lunch with the rotary club. I supposed to be the only one who was going to give that speech, but Ryan said it might be better if I speak before he had his because he thought it would be easier for people to follow his points if I give the basic concepts of Taiwan first.  I think people liked the speech. But the most interesting thing is that there was a man, who work in the local hospital told me that his wife is a Taiwanese. That was impressive. Well, he said that his wife will definitely want to meet Ryan and me. I am looking forward that. It might be around Christmas when we will meet. The speech was good. And I am glad that it was.
11/13/08-The Taiwanese Meal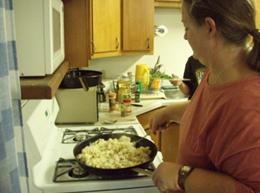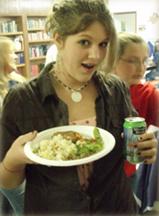 Actually, we have been talking about to have a Taiwanese meal for a long time. Ryan has a cook book that has recipe for Taiwanese dishes in it. Kerry was interesting in it, so she went to talk to Mrs. Seal about it. After that, they decided to have a Taiwanese meal on Wednesday. Kerry and Mrs. Seal are cooking lunch on Wednesdays for the school. The Taiwanese was supposing to be last week, but both Kerry and Mrs. Seal got things to do. We discussed a lot and at the end, we decided to have fried rice and flat beef cake. (I am not sure what the actual name is.) Anyway, the meal was successfully done. I was happy that I could have some TAIWANESE food.
11/13/08-The community service-band performance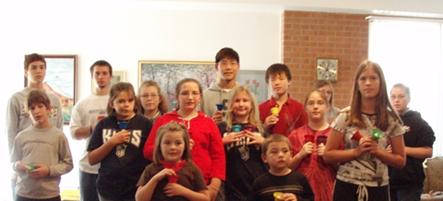 We went to the care center today for academy's community service program. We made some turkey handcrafts and cards yesterday for the thanksgiving. I made a card and gave to an old man because Mr. Gould wanted us to give our cards and crafts to elders in the care center. We played one song and sang a couple songs. There was another special performance-bell. Although this is a common thing that we play in the Christian band,
we never tried to have a public performance before. Anyway, the performance was fine and everyone was happy. We are definitely going to do other performances like this in the future.
11/14/08-The Fall Program (speech plus performance)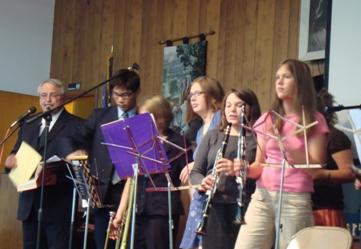 Today was academy's fall program. It was fall concert for the band. There were students from other place and all of them are attending in home school. They played bell, piano and violin. We sang, played songs and bell. I think the band sounded pretty that night. I gave a speech about Taiwan. I was thinking about to introduce Taiwan to the people in town. Because the presentations that I have done so far are mostly presented to the school, I want to provide information about Taiwan to more people. I thought the fall program is a good chance for me to do that because Mr. Gould told me that some people in town would come. I asked Mr. Gould if I can give a speech about Taiwan. He said he would arrange it for me if possible. So he talked to Mr. Hale (teacher for communication arts) about that he wants me to give a speech in the fall program. He also mentioned that he wondered if Ryan wants to give a speech or not. So Mr. Hale asked Ryan. But Ryan didn't even think about to give a speech in the fall program before Mr. Hale asked him. He thought that was a good idea, so he said yes. His topic is 』 Why is Taiwan so Important』 and mine is 『The geography of Taiwan and the people live on this beautiful island』. I made a Power Point presentation with the speech since there was a projector available. The speech went smoothly. I really like it myself and I think people like it, too. I also spent some time to answer people's questions. I am glad that people can know more about Taiwan. This operation will keep going. I will try my best to give more presentations, speeches and performances to Americans.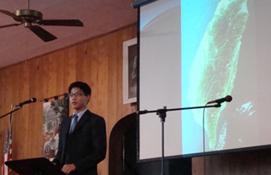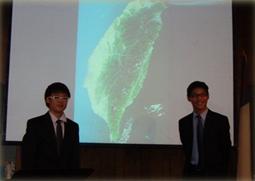 11/27/08-Thanksgiving Day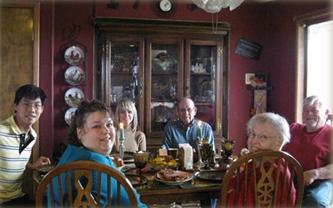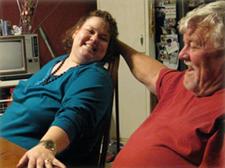 Actually, this is a quite small thanksgiving for my host family. They got about 20 people in their house last year. But there were just 6 of us left this year. My host mom's parents and sister, those are all the visitors we had. However, it wasn't boring because we got less people. We had a great Thanksgiving lunch. After that, we chatted and played games. We played a game that I have never played before. I was a beginner, but it was still interesting. I played my violin for grandma before they left. I think she liked it. Everything was good enough for a nice Thanksgiving Day. But Kerry was expecting that it would snow. Unfortunately, it didn't snow before her parents left. Not a really good timing, huh? Anyway, this might be the first Thanksgiving Day I have ever experienced in my life. And it was worth and warm.
11/30/08-Hunting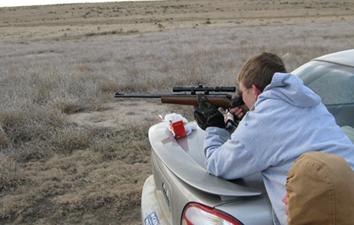 Larry's grandson, a little boy-Ben and I went out hunting today. Because the weather was cold outside, there were many animals out in the field. So thought it was just going to be a shooting practice. When went back to my house, they decided went out and shoot Larry's shot gun. We shot a hare when we were in the back yard. They brought it home for tomorrow's lunch. Well, I might want to try rabbit meat, but they brought all of meat home. It was a special experience for me, anyway.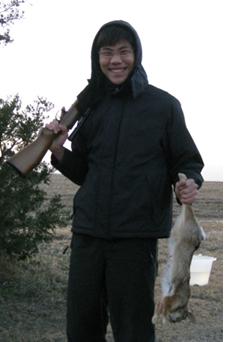 One Response to "wow, i did so much fun stuff!!!"
http://www.ayusa.org.tw – cooooolest domain name)))
————————
signature: http://zehon.ru/
Leave a Reply